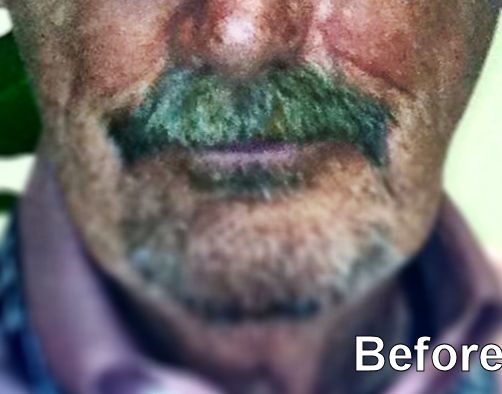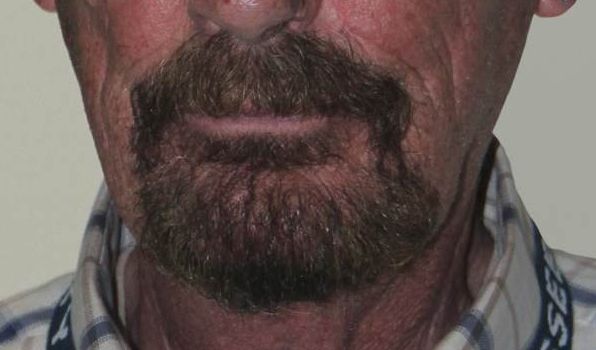 At left the beard of a WolfsHead customer before applying Brown Beardye. Above, the result after just 15 minutes. Quick, easy, and most of all, gentle.
WolfsHead Beardye Instructions
Semi-liquid, use care opening
Best applied after shower or washing facial hair to remove body oils. If you're thinking of trimming, wait until application is complete.
Using supplied application brush, apply to beard directly out of jar. Make sure you cover your beard completely.
After about 15 minutes either dab dry with a paper towel, if necessary, or complete the drying by using a blow dryer on low.
DO NOT WASH/RINSE AFTER APPLYING.
You may need to run a comb through your beard in order to remove bits of henna or gelling agent.
That's it! Go about your normal routine and reapply as you deem necessary.
Testimonials
"Just ordered another batch and wanted to say how pleased I am with your product. I have tried here in the UK to find something which covers the grey patches in my beard without blistering my face like most generic leading brands. Anyway - thank you for a great product and a great service." Gregg

"Just wanted you to know that after using "Just for Men" for 15 years I developed a sever rash in by beard. I went to two doctors. Both said it was Psoriasis. I switched to your product and within 3 weeks the Psoriasis cleared and is gone completely. My face is healed. Thank You"
--SA, Orleans IN

"Thanks Jack , I have become a regular user of your stuff. It's great and works very well.
Keep up the good work."
--CR, Rochester NY

Testimonials
"I just wanted to say "Thanks!" for giving us an alternative to the commercial crap that leaves your beard one complete, unnatural looking color. I came across Wolfshead a couple of months ago when I decided, for the first time in my life, to grow out my beard. I love the fact that I don't have to smell the chemical base all day after a touch up, that it allows the different color nuances to come out in the beard and that it's just so dang easy to use. Thanks!" --jw from ca
"Hello Jack,I used Just 4 Men for probably 3 years--but my facial skin problems got so severe that I had to see a Dermatologist! Huge Blisters,rash,and dandruff by the pound-it really got bad! Switched to Wolfshead,and ALL that stopped. My Dr, didn't recommend any Beard Dye,but said Wolfshead seems to work great for me. So here I am 7+ years still using your product,and will never quit using it! Thanks for helping us "old" guys in trying to look our best!!" -- Sincerely, Mick B.